I wanted to post a quick udpate on the status of Project Borat, which we started working on just over three months ago. The reason we hadn't been blogging about it was because the client's business plan was going under a rewrite and they decided to pull the plug on it for now.
So, we've decided to pick another one of our new client projects to blog about about.
I just wanted to thank Peat and Brian for helping with this little blogging experiment… and look forward to announcing the next one by the end of the week. :-)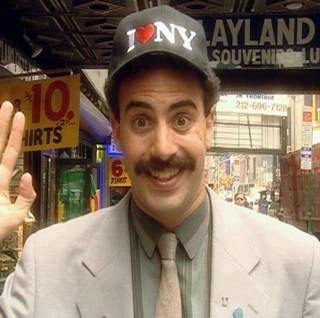 Goodbye, Borat!
7 comments Latest by Joe Grossberg Wed, 07 Jun 2006 20:56:03 GMT
This is going to be really exciting and a fun challenge for our team. Over the next few months we are going to take you, our audience, deep inside the heart of a real development project. We're going to be writing about our whole process from the moment the contract was signed until we launch the first public version of the application. As a team, we will be blogging about our various roles in the project and as we keep do our best to blog the process, we'll be interested in hearing your thoughts on our processes and be honest about the lessons we learn ourselves.
The Project
Peat Bakke, the Project Director at PLANET ARGON and I have been talking to a new client about their new project. We've come to an agreement with them, which gives us permission to blog about our experiences, but cannot give details about the business plan, logic, or other secret ingredients that they have up their sleeve that will make their product successful. What we can blog about it… is our experiences and processes. Throughout the course of the project, we will refer to this project as… PROJECT BORAT. don't ask… (see Peat's blog for details)
The Sales Process
Each client that we sign a contract with is unique. We have yet to have the same things happen twice when it comes to signing a custom development or consulting project. We met with The Client a few weeks ago after Jeremy and I returned from Canada on Rails. While in Vancouver, one of three individuals that make up the core team of The Client had gone to CoR to learn more about the Rails community and had approached me to discuss the PLANET ARGON development process. Little did I know that the next week, I would be signing an NDA with him and his colleagues in our office in downtown Portland, Oregon. After signing the NDA, The Client outlined their great product idea and Peat and I listened in and asked them some vital questions:
Why Ruby on Rails for the project? (how familiar are they, what attracted them to Rails?)
How will the project make you money? (always an important question… and they are usually happy to discuss)
What is your ideal deadline for delivery of the project? (aside from the common answer of

ASAP

that we often hear)
Do you have a set budget for the project? (qualifying question to avoid any surprises)
How soon are you looking to make a decision? (helps us prioritize our potentials)
We talked with The Client a while longer and off they went with our business cards. Peat and I then scheduled a time to go over our meeting notes and pair on an initial estimate for the first few iterations. The first two iterations would include a specification phase, which includes pairing with the client (something we can easily suggest when they are local) to gather project requirements, paper prototyping, Use Case defining, and estimates for the first few iterations of architecting, development, documentation, testing, and delivery.
We went back and forth over a few details, scheduling, and have since signed a contract to begin the first iterations of the project.
...and this is where I direct you to read the next installment of Project Borat... with your host, Peat Bakke.
UPDATE Read my next installment, Prototypes Are Your Friends.